The Dawn of The Social CV | CIPHR
See on Scoop.it – Social Media Recommendations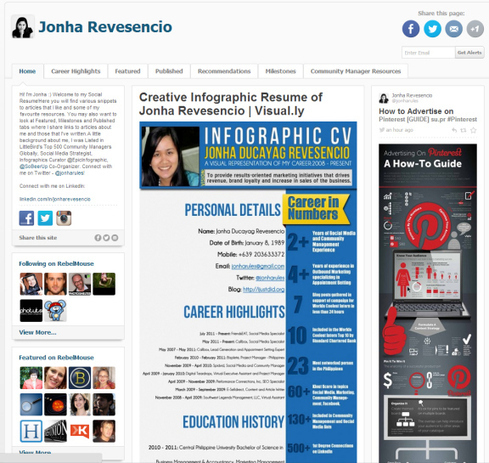 As our digital world becomes more prominent, and even starts to affect our offline lives, it is becoming increasingly desirable to show your ability to network, share and influence your contacts and 'followers' online.
A 'Social CV' is a new concept (to me anyway) which allows an individual to provide a visual representation of their online presence. Similar to a traditional CV, a social CV allows a potential employer or business partner to understand your ability to market yourself, your products and/or services and to engage and retain a 'following'.
Jonha Revesencio created a social CV on Rebel Mouse, a magazine style website. Including all the relevant information visually makes for an engaging read, which is the aim. She did this using tag clouds, infographics and snippets of experiences and projects.
See on www.ciphr.com