World's Best Value Destinations For Your Startup Company [INFOGRAPHIC]
See on Scoop.it – Awesome Infographics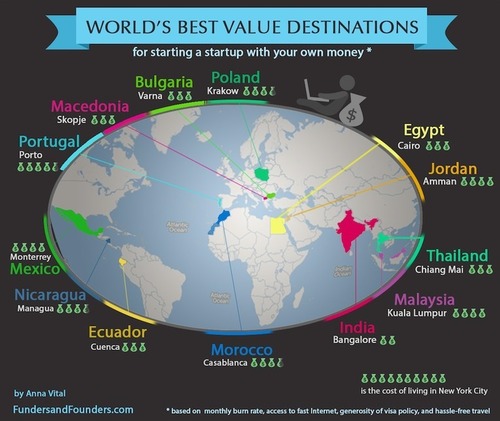 Where do you go to build your startup before you get investment?
The following infographic from Funders and Founders showcases the places to start your startup that offer the most value for your bootstrap money.
Some of the study's results, presented in the infographic below, include:
Egypt ranks first among Arab countries and second globally in terms of providing a low-cost environment for entrepreneurs.India ranks first globally in the list of countries that have lower living cost for new entrepreneurs.In Europe, Bulgaria, Portugal, Macedonia and Poland are considered the most convenient countries for startups with limited budgets.With $6,000 in India, you can comfortably bootstrap for 6 months (eating out for every meal).Morocco (Casablanca) this year rated the 3rd most welcoming country for outsiders in the world.
Jonha Revesencio's insight:
ASIAIndia (Bangalore) – the cheapest city out of the top 20 startup ecosystems in the world, ranked by Startup Genome. The visa is for 6 months. $1000 per month will buy you a very comfortable lifestyle.Malaysia – visa-free for 3 months for most countries, top-notch infrastructure in big cities. Singapore is just over the bridge.Thailand (Chiang Mai) – a known heaven for e-entrepreneurs. Affordable, cultural, and exotic.
See on fundersandfounders.com